Echo Yachts are Australia's large 100% custom superyacht manufacturer and comprehensive refit, maintenance and repair specialist.
Situated in Henderson near Fremantle in Western Australia, Echo Yachts is perfectly situated to support superyachts operating in the Indian Ocean and S.E. Asian region, requiring a suitably experienced superyacht specialists able to provide the necessary facilities, skills and workmanship for such high-end vessels.
Boasting a multi-disciplined in-house team of highly skilled designers, trades and craftspeople, Echo Yachts deliver the same consistently high standard of service, engineering, workmanship and finish across all newbuild, refit, maintenance and repair projects.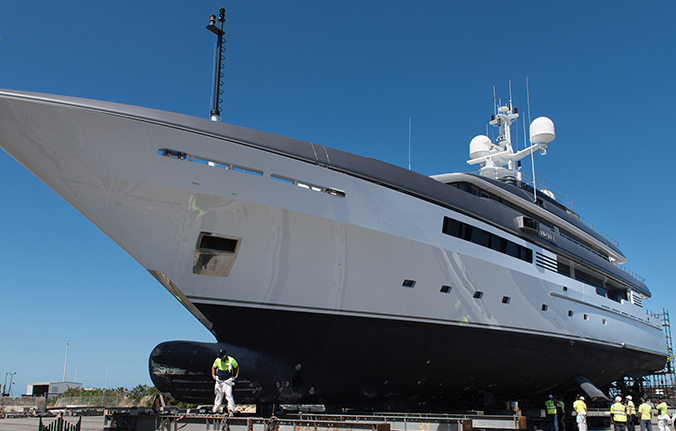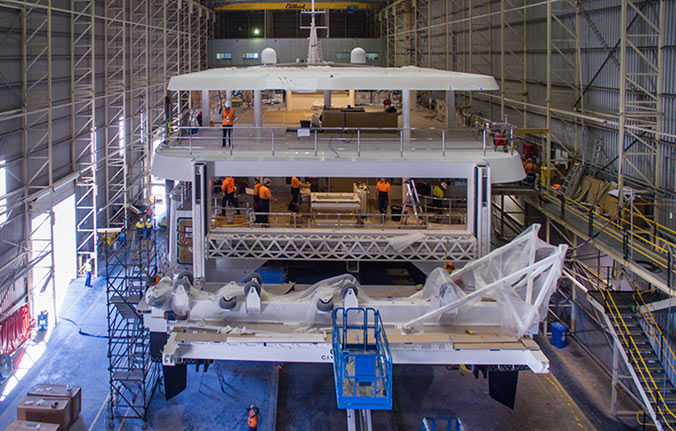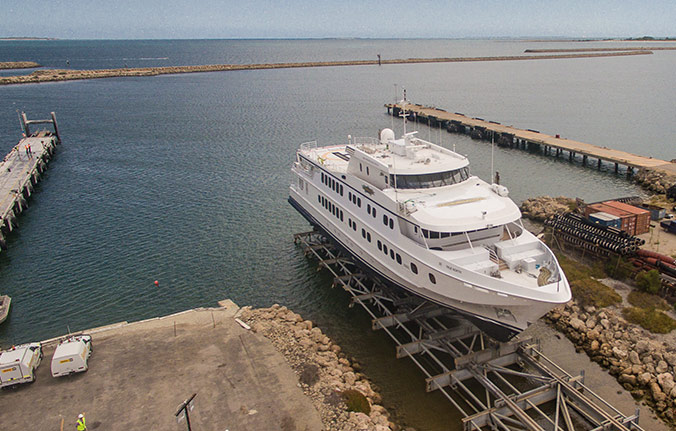 Echo Yachts operate world class superyacht manufacturing and maintenance facilities on the waterfront at the Australian Marine Complex in Henderson, Western Australia.
103m and 80m shipbuilding halls are supported by Design and Project offices, 5 axis NC machining, Engineering, Electrical and Fitout workshops.
Extensive wet-berth and hard-stand space is available to visiting superyachts for all facets of in-water work or haul-out services. Superyacht re-painting is undertaken within the build halls or within tented paint enclosures on the hardstand according to client requirements.
Multiple haul-out options comprising 800 tonne slipway with transfer trolley system, 8000 tonne sycrolift and 12,000 tonne floating dock are available with transfers via state-of-the-art SMPT remote control trailers.
In addition to Echo Yachts' award winning newbuild projects, recent refit and maintenance projects have included an assortment of 40 – 60m LOA superyachts and explorer vessel works programs with examples including:
Full vessel re-painting
10 & 20 year major survey works programs
New structural works including helicopter landing pad manufacture & addition
Hull and tank replating
Engineering & Electrical re-furbishment works
Engine and Generator replacements and rebuilds
Exterior & Interior Fitout refit & refurnbishement works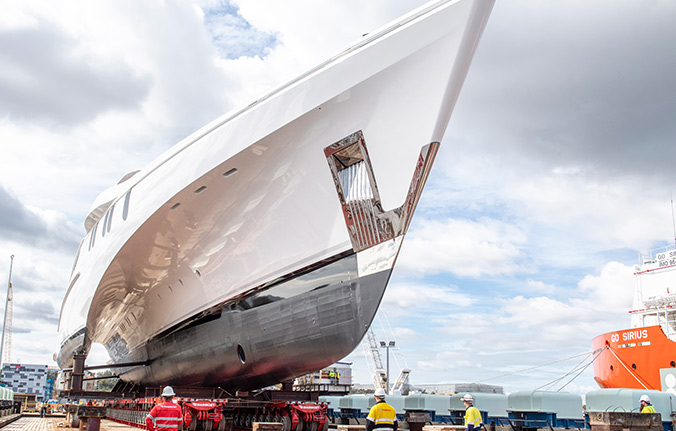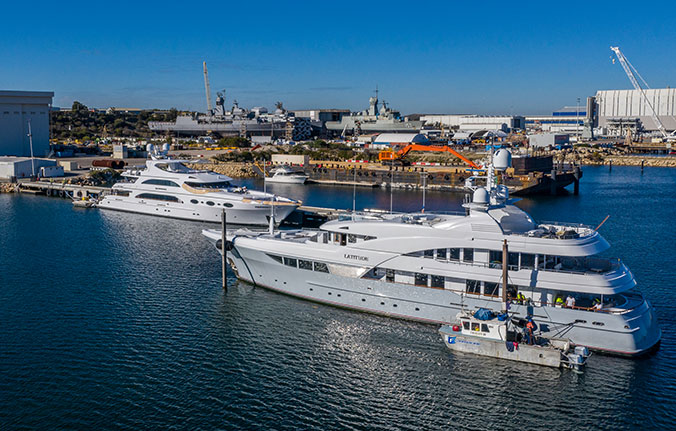 Francois Voisin, Captain of M/Y White Rabbit
From building fleet's new superyachts 84m M/Y White Rabbit and 51m M/Y Charley, to a refit on our existing 61m White Rabbit Echo, the experience and building capability of Echo Yachts has enabled the shipyard to complete of these projects very successfully.
Their great design and engineering team, plus a very high level of professionalism and sense of pride and commitment to top quality shown by everyone there – seldom found in other shipyards – has brought us back often. In addition, the fantastic WA cruising, diving and fishing on the way down, second to none, have kept us coming back to WA over the years, and made the experience even more rewarding for owners and crew!
Tanguy Adriaenssen, Captain M/Y Aldabra
"Echo Marine Group managed to deliver on time and on budget accommodating us in all possible ways.
Their strengths certainly lie with their in-house engineering and manufacturing team able to tackle any job we required from them.
I would recommend this facility for anyone in the Indian Ocean looking for a clean and 'Yacht Suitable' facility to perform maintenance at a competitive price."
Troy Nuttall, Managing Director, Oceanic Offshore
"Echo Marine Group's ability to coordinate, consolidate and execute a seamless refit to D/V Mary V was most impressive and I personally am an advocate of your company to anyone who may require the same high quality, expert assistance with any of their marine projects."
Scott Goodbody, General Manager, Captain Cook Cruises
"I would like to say thank you for our recent project on our vessel 'Queen of the Valley' to your team who were very professional and effective throughout the process.
I would highly recommend Echo Marine Group to other operators."
Peter Carton, Marine Mobilisation Manager, Leighton Contractors
"Echo Marine Group do an excellent job, provide highly competitive local market rates and consistently strive to innovate, save time and money whilst never compromising on quality or safety outcomes."
The owner of Motor Yacht Latitude and I decided on visiting Echo Yachts for our refit and maintenance needs as they offer a higher level of workmanship, ready availability of parts and expertise than other yards in Asia.
Added to this, Echo Yachts are closer to Singapore than Brisbane and there are many great West Australian cruising grounds to be seen on the way south and again north as we leave.