Echo Yachts 84m trimaran White Rabbit launched in Henderson, Western Australia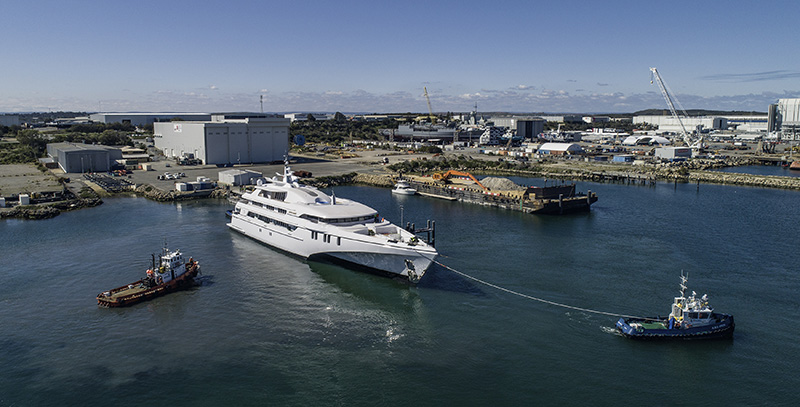 Australian custom Superyacht builder Echo Yachts are proud to announce the successful launch of their 84m superyacht newbuild project 'White Rabbit' on Saturday 1st September in Henderson, Western Australia.
Weather conditions were perfect for the launch with launch which took place at the BAE Systems facility adjacent to Echo Yachts in Henderson, Western Australia.
At nearly 3000 gross tonnes, 84m in length and 19.6m beam, White Rabbit is largest superyacht built in Australia, the largest aluminium and largest tri-hull superyacht in the world.
White Rabbit showcases the highest standards of luxury cruising and innovation with over 1200m2 of palatial guest accommodation, class leading seakeeping and fuel efficiency, trimaran hull form, bespoke Naiad ride control and state-of-the-art diesel electric propulsion by Kongsberg/STADT and Rolls Royce.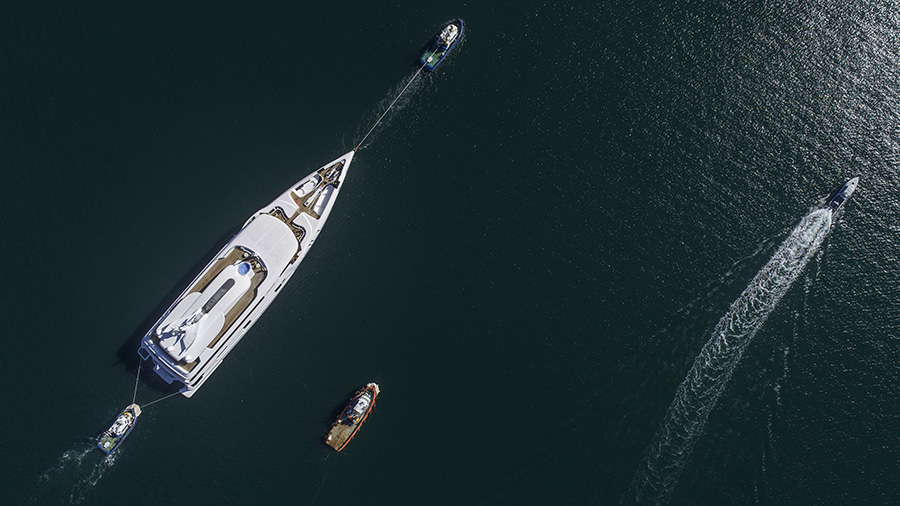 Echo Yachts director Mark Stothard:
"On behalf of the team at Echo Yachts, I am very proud of what we have achieved with the build of the latest White Rabbit.
Like myself, many of the team have been involved in the Western Australian Ship Building industry since the early 80's. We have watched our industry grow, prove itself and become internationally renowned for the ability to take on and deliver one off bespoke projects that many other builders would shy away from.
It is this 'can-do attitude', technical knowledge and experience we have accumulated as a collective that paved the way for the White Rabbit project to be built by Echo Yachts in Australia.
At the clients request we explored their desire for "engineering boldness" in the vessel's form and latest technology engineering systems design. We are very grateful to our client for pushing us and backing us all the way in these endeavours.
The net result is that the yacht we are about to hand over is truly world class and a credit to everyone involved, including: Sorgiovanni Designs, One2Three Naval Architects, Alia in Turkey for the luxury furniture, Exclusive Coatings for the painting and fairing, numerous machinery suppliers and of course the Echo Yachts team for the build and project management".
Yacht Designer Sam Sorgiovanni:
"There is a great sense of pride that comes from seeing the launch of WRG. It's not just the time that it took to build the yacht but more so from history and the fact that my career started here and with many of the people involved in the project.
There is no question that every aspect of this yacht is purely world class and a credit to all that have contributed to this amazing vessel.
As with all great yachts, there is always an Owner that has a dream, a passion for the unique experience of yachting. In this case, the Owner is also a visionary constantly striving to challenge convention and achieve what has never been done before.
The Team at Echo Yachts and all involved in the design and build of WRG have proven that when challenged, the Australian 'can-do' attitude usually results in greatness.
WRG's hull form, developed by One2Three, is an innovation with many advantages over a conventional hull. Once fully understood by the industry I have no doubt that efficient hull forms will catch on as in a world of fuel efficiency and political correctness, it's a logical and necessary way forward.
Once again, thanks to her Owners for the opportunity to be involved in such a significant and important project and I wish the team at Echo yachts future success".
White Rabbit will be intensively trialled at sea off the West Australian coast prior to delivery to her owners by the end of October 2018.
Echo Yachts will be attending this year's Monaco Yacht Show and available for appointments to discuss newbuild and refit opportunities, with immediate build capacity available.
Download link (Hi-res images): White Rabbit launch photograph's
SALES & MEDIA ENQUIRIES
Sales
sales@echoyachts.com.au
Media
media@echoyachts.com.au
Website
www.echoyachts.com.au
BACKGROUND INFORMATION:
Echo Yachts is Australia's largest builder of custom Superyachts, Expedition and Yacht Support Vessels tailored to suit each Client's exact requirements.
Headquartered at Henderson in Western Australia with purpose-built waterfront shipbuilding facilities, Echo Yachts employs over 200 specialist staff with many decades of experience in all facets of superyacht build management, design and manufacture.
In-house expertise in Aluminium, Composite and Steel construction plus extensive experience in designing and building all hull forms ensures that Clients of Echo Yachts are provided ultimate flexibility in the creation of truly one-of-a-kind custom vessels.
Echo Yachts current Sam Sorgiovanni designed 84m newbuild superyacht project 'White Rabbit' is a 100% custom design and build project. At nearly 3000 GT, it will be the largest aluminium and largest trimaran superyacht in the world, the largest and the first diesel electric superyacht built in Australia. Completion and delivery in 2018.
At the beginning of 2017, Echo Yachts delivered the 46m composite catamaran Yacht Support Vessel 'M/Y Charley'. M/Y Charley is the largest composite vessel built in Australia incorporating the latest in vacuum resin infused composite construction processes and became a finalist in the World Superyacht Awards category of Best Shadow Vessel.
In 2015 and 2017 Echo Yachts were awarded the Australian Superyacht Industry 'Manufacturer of the Year' award and pride themselves on offering their clients a very straightforward and personalized approach to creating their dream vessels.