Echo Yachts 84m trimaran White Rabbit revealed
Australian custom Superyacht builder Echo Yachts have proudly revealed their 84m superyacht newbuild project 'White Rabbit' during an exclusive VIP event at their shipyard in Henderson, Western Australia.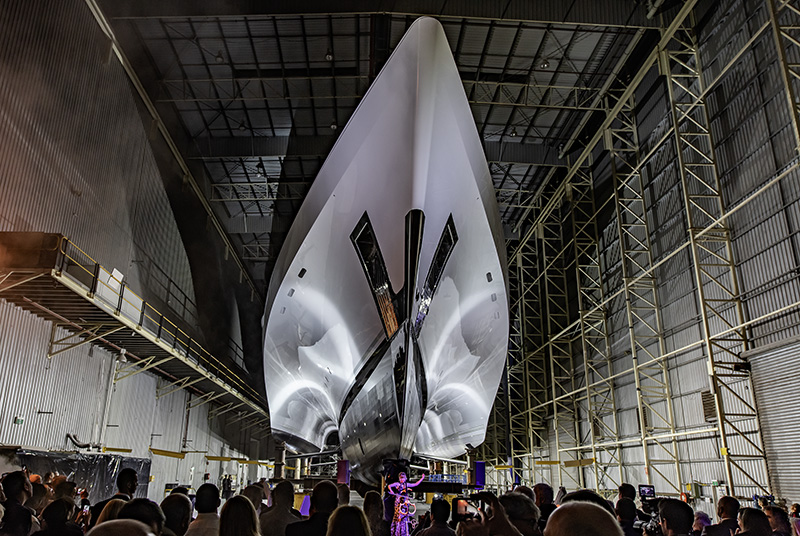 White Rabbit is 100% custom designed and built according to its experienced Owners exacting requirements and is the culmination of 4 years of detailed design and construction efforts by the team involved.
At nearly 3000 gross tonnes, 84m in length and 19.6m beam, White Rabbit is largest superyacht built in Australia as is the largest aluminium and largest tri-hull superyacht in the world.
Designed by Sorgiovanni Design, White Rabbit showcases the highest standards of luxury cruising and will provide amazing seakeeping, speed and fuel efficiency for a vessel of its size and magnitude.
Echo Yachts celebrated the reveal of White Rabbit in style during the exclusive reveal function featuring an evening of VIP speeches, video documentary of the build, plus an evocative and memorable sound and light show including special guest and cellist Ms Joanna Quail of London.
Guests were provided the rare opportunity to step onboard and view some of the expansive exterior entertaining spaces and enormous luxury interior spaces thanks to the hospitality of White Rabbit's owner and family who were in attendance for the special event.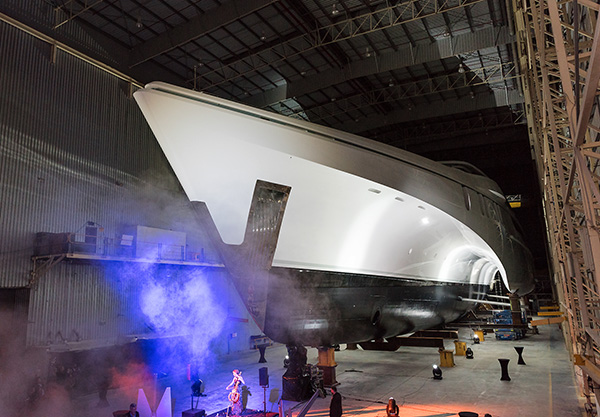 Echo Yachts director Mark Stothard:
"The Echo Yachts team are extremely proud to have been entrusted to create this truly unique and amazing superyacht for our valued client and it has been a pleasure to achieve such a fantastic result together with Sorgiovanni Design, One2Three Naval architects and ALIA Interiors.
The enormous trimaran hull form and refined styling of White Rabbit create a profound and immediate Wow Factor that no other hull form can quite achieve.
We are confident that this unique Trimaran will produce outstanding performance and provide distinct benefits compared to other hull forms in terms of shear guest space, plus sea keeping and fuel efficiency which we intend to prove during sea trials in the near future.
Our team are really looking forward to launching White Rabbit and demonstrating the amazing benefits and performance characteristics this special type of yacht delivers".
Final preparations are now underway for the launch of White Rabbit in early September.
Echo Yachts will be attending this year's Monaco Yacht Show and available for appointments to discuss newbuild and refit opportunities, with immediate build capacity available.
Download link (Hi-res images): White Rabbit reveal photographs and logo's
SALES & MEDIA ENQUIRIES
Sales
sales@echoyachts.com.au
Media
media@echoyachts.com.au
Website
www.echoyachts.com.au
BACKGROUND INFORMATION:
Echo Yachts is Australia's largest builder of custom Superyachts, Expedition and Yacht Support Vessels tailored to suit each Client's exact requirements.
Headquartered at Henderson in Western Australia with purpose-built waterfront shipbuilding facilities, Echo Yachts employs over 200 specialist staff with many decades of experience in all facets of superyacht build management, design and manufacture.
In-house expertise in Aluminium, Composite and Steel construction plus extensive experience in designing and building all hull forms ensures that Clients of Echo Yachts are provided ultimate flexibility in the creation of truly one-of-a-kind custom vessels.
Echo Yachts current Sam Sorgiovanni designed 84m newbuild superyacht project 'White Rabbit' is a 100% custom design and build project. At nearly 3000 GT, it will be the largest aluminium and largest trimaran superyacht in the world, the largest and the first diesel electric superyacht built in Australia. Completion and delivery in 2018.
At the beginning of 2017, Echo Yachts delivered the 46m composite catamaran Yacht Support Vessel 'M/Y Charley'. M/Y Charley is the largest composite vessel built in Australia incorporating the latest in vacuum resin infused composite construction processes and became a finalist in the World Superyacht Awards category of Best Shadow Vessel.
In 2015 and 2017 Echo Yachts were awarded the Australian Superyacht Industry 'Manufacturer of the Year' award and pride themselves on offering their clients a very straightforward and personalized approach to creating their dream vessels.