Aldabra is all complete!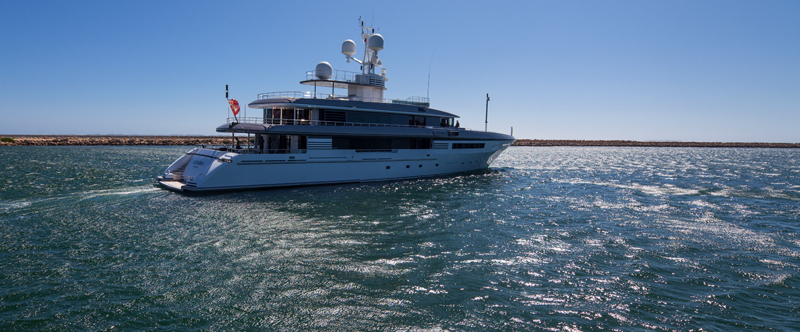 Echo Marine Group was recently engaged to carry out the annual detailed maintenance and refurbishment of 51m superyacht 'Aldabra' at our Western Australian facility. This detailed work scope was successfully completed. The vessel has since departed for international appointments.
Some weeks prior to the project start, our vessel refurbishment experts travelled to Bali, Indonesia to undertake a thorough inspection of the vessel with the master. This visit ensured an accurate scope and costing was prepared prior to works commencing.
Main scope items:
Full project management of the refurbishment process. This included continual liaison with the master to ensure all requirements were met or surpassed.
Dry docking and relaunch
Remove, clean and refit main engine shafts.
Propeller blast and coat with three layer high efficiency and long-life antifouling system
Full engine lube replacement and disposal of waste oil
Full outer hull and superstructure re-paint with high specification coating systems.
Main engine repaint in-situ.
Service enhancements:
A constant single-point-of-contact and concierge service was provided to the master to ensure all items and enquiries were given the attention required.
A large, unobstructed hard stand was provided with full unobstructed vehicle access.
24 hour secure site with security monitored access and egress was maintained throughout.
All the team at Echo Marine Group and our dedicated specialist contractors strive to provide the best products and service, tailored to your specific requirements. Please contact us for an obligation free assessment of your vessels' needs.