Crew Transfer Vessel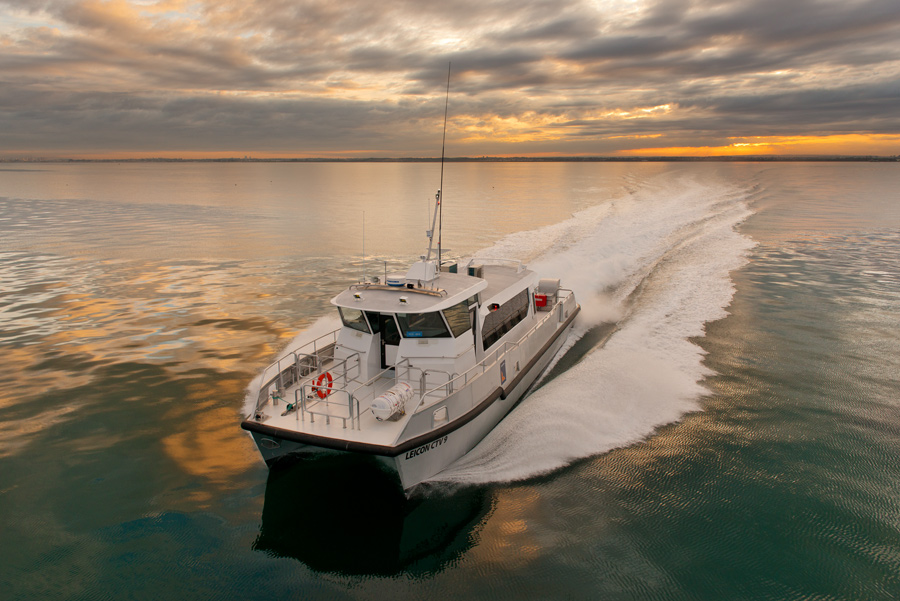 Echo Marine Group are pleased to announce the launch of the first of 2 Crew Transfer Catamarans built to service the Oil and Gas industry at Barrow Island.
Designed by One 2 Three Naval Architects and built by Echo Marine Group, this team broke all records with this project. The vessel was fully designed ready for cutting in 10 days by One 2 Three Naval Architects and the build to launch time was only 13 weeks!
The performance of this CTV has also proven the bonafides on the One 2 Three hull shape and attention to detail as the vessel came within 40kg of the designed weight, achieved contracting speed at 67% MCR and sits perfectly on the designed trim at .5 degree stern trim throughout the speed range.
The efficiency of the hull form is also evident when looking at the wake generated by this uniquely efficient design, or should we say 'lack of wake'!
Powered with twin Cat C18 main engines rated at 873 BHP at 2200 RPM and driving through Ka Me Wa 36A3 water jets.
The Ka Me Wa Joystick control system positioned at the main helm and aft docking station also makes for pin point docking with awesome visibility from both stations.
The vessel carries 32 pax and 2 crew and achieved 26 knots at 65% MCR fully loaded.
The second of these impressive vessels is due to be launched in about 2 weeks time.
Aerial video footage of the CTV underway can be viewed here: