Project Echo – Adventure Support Yacht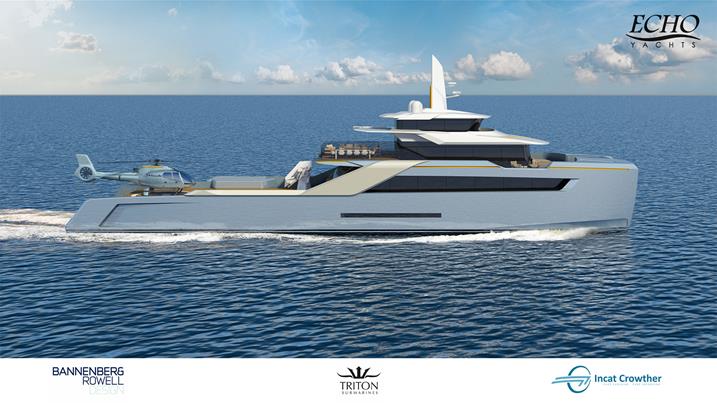 Australian custom Superyacht builder Echo Yachts are excited to unveil their new Adventure Support Yacht aptly named 'Project Echo' designed in collaboration with renowned industry experts Bannenberg & Rowell Design, Triton Submarines and Incat Crowther Naval Architects.
With a strong focus on both form and function, plus its 50m catamaran hull form, the 495 GT 'Project Echo' introduces and demonstrates a totally fresh approach to both the charter Adventure Yacht and Superyacht Support vessel markets.
In addition to Bannenberg & Rowell's cutting edge exterior styling and features, 'Project Echo' is designed on a perfectly suited and pre-proven heavy seas offshore catamaran platform providing class leading performance, exceptional fuel efficiency, superior cargo space and stability, plus optimal long range safety and redundancy for submarine launch and retrieval operations.
Innovative technical features incorporated into 'Project Echo' from its inception include a custom designed Caley A-frame submarine Launch and Recovery System (LARS). In addition, to offer the ultimate and safest solution in submarine launching functionality, the A-frame LARS has been developed by Caley with Echo Yachts to fold and stow flat into the cargo deck enabling seamless Helicopter landing operations or additional cargo deck space.
Primary water craft, landing craft and back-up Submarine launch and retrieval capability is provided via Project Echo's secondary 12 tonne knuckle boom crane.
Other class leading features include a cargo deadweight carry capacity of 40 tonnes, long range and heavy seas cruising capabilities, integrated deck cargo transfer rail / tie down system and dedicated undercroft protection and technical lockers for the Submarines.
True to form, Echo Yachts offer a full suite of options and 'Project Echo' can be further customized to suit each Clients exact requirements in terms of interior layout, technical equipment, special interior and exterior finishes upgrades.
An immediate project start and build slot is available.
Echo Yachts will be attending the Monaco Show and available for appointments.
Hi-Res Images Available For Download Here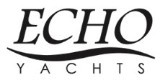 Chris Blackwell of Echo Yachts:
"Since Echo Yachts successful delivery of our 46m catamaran project M/Y Charley at the beginning of 2017, we've received significant interest in the large living spaces, inherent stability, superior cargo carrying capacity and operational efficiency advantages of the catamaran platform, compared to the alternative monohull vessels on the market.
Many owners, captains and brokers have expressed to us a common desire to see these characteristics complemented with an upgraded yacht aesthetic plus a comprehensive submarine and cargo handling capacity to provide a very stylish and charter ready Adventure Yacht in it's own right and alternatively, as an extremely versatile Yacht Support Vessel to a larger mother ship.
In collaboration with Bannenberg & Rowell, Triton Submarines and Incat Crowther, we are very proud to introduce our new 'Project Echo' Adventure Support Yacht design ahead of this years Monaco Yacht Show, as our answer to this challenge.
We look forward to speaking with interested Private buyers and Commercial operators that appreciate the unique design and multi-functional aspect of our new vessel type, be it for adventure cruising, submarine operations, as a yacht support vessel, or as an exciting extension to luxury hotel chains and cruise ship operations for truly unique luxury guest experience.
Echo Yachts will be attending the Monaco Show and can be located at: Darse Sud exhibition hall, Stand QS58"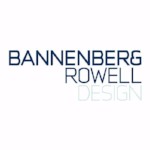 Dickie Bannenberg of Bannenberg & Rowell:
"There is a history of London / Western Australia collaboration in the Bannenberg studio of course, and we have been very pleased to rekindle that with our work with Echo Yachts, Triton and Incat Crowther.
It's an interesting and growing segment of the market but not necessarily one populated with vessels which combine both form and function as we believe the Echo Yachts vessel does.
The catamaran platform offers stability and space – providing an ideal mother ship for submarine and adventure operations. It's good looking and practical. Echo Yachts are able to offer many technical and yacht finish options to suit any need and it has been a pleasure working with them."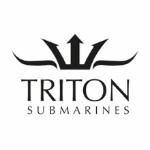 Patrick Lahey of Triton Submarines:
"In the new age of the adventure yacht, we at Triton Submarines have a special appreciation of the importance of a properly constructed support vessel, especially from the point of view of launch, recovery and operations of submersibles. Echo Yachts' vision in terms of pairing style with simple reliable engineering, safety and the practicalities of everyday expedition adventures matches our own, and hence we are very pleased to collaborate in this exciting new development".
Triton Submarines of Vero Beach, Florida manufacture yacht-based manned submersibles, which feature cutting-edge designs, exceptional visibility, simplicity of operation, reliability, ease of maintenance and superlative safety. With more than 350 years of collective experience, and operations ranging from Antarctica to the Tropics, the team at Triton form the most knowledgeable pool of civil submersible expertise on the planet.

Brett Crowther of Incat Crowther Naval Architects:
"Incat Crowther is pleased to support the development and technical integration of the newly designed 'Project Echo' Adventure Support Yacht'.  Working under Echo Yachts' lead, and in conjunction with Bannenberg & Rowell for exterior styling and Triton Submarines for their luxury submersibles, Incat Crowther brings our well proven offshore catamaran hull form and engineering capability to underpin the concept perfectly.
Ideally suited to the specific operational requirements of an Adventure Support Yacht, our catamaran hull has a large and functional deck space with the ability to carry a Triton luxury submersible and ancillary equipment, custom submarine launching system, tenders, cranes and other deck equipment, together with fuel and provisions for a four thousand mile operational range.
Together with its high deadweight capacity and exemplary propulsive efficiency, Incat Crowther's hull has been well proven in tough oceanic conditions, and is the benchmark solution in the commercial offshore oil and gas industry, where superior sea keeping, ruggedness and performance offshore are paramount."
SALES & MEDIA ENQUIRIES
Sales
Chris Blackwell
sales@echoyachts.com.au
+61 (0)410535005
www.echoyachts.com.au
Media
media@echoyachts.com.au
BACKGROUND INFORMATION:
Echo Yachts is Australia's largest builder of custom Superyachts, Expedition and Yacht Support Vessels tailored to suit each Client's exact requirements.
Headquartered at Henderson in Western Australia with purpose built waterfront shipbuilding facilities, Echo Yachts employs over 200 specialist staff with many decades of experience in all facets of superyacht build management, design and manufacture.
In-house expertise in Aluminium, Composite and Steel construction plus extensive experience in designing and building all hull forms ensures that Clients of Echo Yachts are provided ultimate flexibility in the creation of truly one-of-a-kind custom vessels.
Echo Yachts current Sam Sorgiovanni designed 84m newbuild superyacht project 'White Rabbit Golf' is a full custom design and build project. At nearly 3000 GT, it will be the largest aluminium and largest trimaran superyacht in the world, the largest and the first diesel electric superyacht built in Australia. Completion and delivery in 2018.
At the beginning of 2017, Echo Yachts delivered the 46m composite catamaran Yacht Support Vessel 'M/Y Charley'. M/Y Charley is the largest composite vessel built in Australia and incorporated the latest in vacuum resin infused composite construction processes.
In 2015 and 2017 Echo Yachts were awarded the Australian Superyacht Industry 'Manufacturer of the Year' award and pride themselves on offering their clients a very straightforward and personalized approach to creating their dream vessels.
PRESENTATION MATERIAL:
Hi-Res Images Available For Download Here