Successful Delivery of 46m Catamaran Charley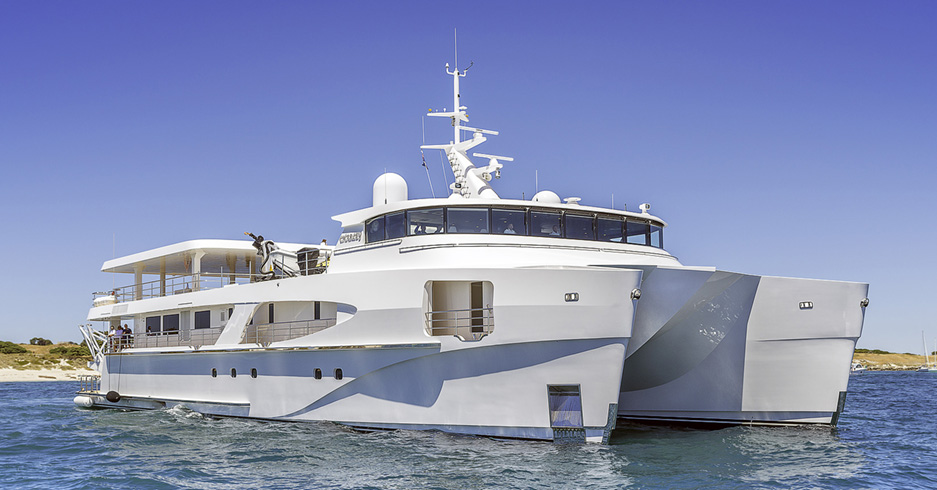 Australian Superyacht specialists Echo Yachts successfully launch and deliver 46m Shadow Vessel 'Charley'
Western Australia's largest superyacht builder Echo Yachts is proud to announce the successful launch and delivery of their recent new-build, the 46m composite catamaran shadow vessel 'Charley'.
The team at Echo Yachts specialize in the design and manufacture of bespoke superyachts and shadow vessels tailoring each project to match their clients exacting requirements, style, features and performance.
Charley is the largest composite resin infused vessel ever to be built in Australia, with Naval Architecture performed by LoMocean.
The custom catamaran design of Charley provides extremely spacious interior and exterior accommodation and entertaining areas, a very large carrying capacity for a plethora of tenders and other water toys plus superior sea keeping and fuel efficient performance.
One of Charley's most striking features is the large 12m custom carbon fibre tender catamaran with its specially engineered launch and retrieval platform positioned at the stern of the vessel.
Charley also comes equipped with a large helicopter touch & go pad, dive store, decompression chamber and specialist sonar equipment for wreck finding and diving adventures, to name but a few of it's impressive features.
The design and construction of Charley took two and a half years from inception to handover and resulted in a very high standard of finish thanks to the latest 3D design and 5 axis mould cutting and vacuum resin infusion techniques employed by the shipyard.
Echo Yachts are currently building the 84m mother ship White Rabbit Golf. White Rabbit Golf will be the largest trimaran superyacht in the world, styled by the renowned yacht designer Sam Sorgiovanni. With a completion date slated for Q2 2018, the 84m trimaran will also achieve the accolades of being the largest superyacht to be built in Australia, the first diesel electric superyacht to be built in Australia and the largest aluminium superyacht in the world.
Vessel Particulars:
Builder: Echo Yachts
Naval Architect: LOMOcean Design
Interior Designer: Echo Yachts
Hull form: Catamaran
Construction Material: Vacuum Infused FRP
Length: 46.0m
Overall Length: 51.7m (including tender install off the back of transform)
Beam: 14.0m
Draft: 3.2m
Max Speed: 20 knots
Cruise Speed: 16 knots
Range: 2,500 Nautical Miles @ 16 knots
Guests: 18
Crew: 13
Propulsion: 2 x Cummins QSK60 rated at 2013kW @ 1900rpm
Tenders & water toys:
1 x 12m Custom built carbon fibre Catamaran
1 X 7m Castoldi jet tender
1 X 6.15m Pioner multi
1 X 4.3m Navigo
1 X 2.85m Williams turbo jet
1 X 3.6m Hov Pod
4 X Yamaha wave runners
Other:
1 x Tender lift for launch and retrieval of 12m tender
1 x Decompression Chamber
1 x Kongsberg EM2040C Multibeam Echo sounder
Dropbox link to Photographs and Video footage:
https://www.dropbox.com/sh/tigy1yf11eyf9cb/AACQxcTvT4gRWG03GMXE1iIza?dl=0
Echo Yachts
Australia's largest superyacht builder
Specializing in bespoke superyacht design and construction
Build with Aluminium, Composite and Steel
In-house design and manufacturing with over 240 skilled staff
Currently building the largest trimaran superyacht in the world, the largest Australian superyacht and the largest Aluminium superyacht in the world
Echo Yachts will be attending the upcoming 2017 Singapore Yacht Show and will be available for appointments.
For Sales and Marketing enquiries:
Mr. Chris Blackwell
Echo Yachts
sales@echoyachts.com.au
+61 410 535 005
www.echoyachts.com